National Trust iPhone App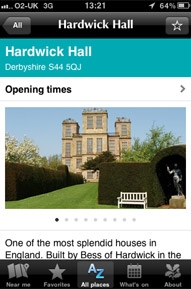 The National Trust has launched a free iPhone application that helps you to find the nearest National Trust location to visit based on where you are in the country. If you are stuck for ideas or simply overwhelmed by the choice of over 400 different National Trust locations to choose from then the official National Trust iPhone app will help to simplify things for you.
The app uses the GPS function that is built in to the iPhone software (you can also use the iPad or iTouch if you have a suitable WIFI or 3G connection) to determine where you are located and the sites that are in close proximity to you.
To help you to decide which National Trust maintained properties, gardens or coastlines to visit, the app provides the user with a great deal of useful information that can help to inform the decision such as site opening times, prices, facilities, cafes, disabled access, baby changing/feeding areas, etc along with contact and address details for the location. Different events are listed and updated regularly so you will be informed as to what is happening at National Trust sites and you are able to share details from the app with friends via Facebook or Twitter.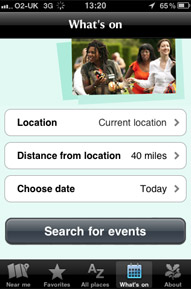 A useful feature is the implementation of Google Maps into the app. This means that the app can provide you with driving directions to the location very simply.
If you want to travel further afield you can search for National Trust sites within 40 miles of your location or if you know where you want to go you can use the A to Z search facility on the application to find the details of the attraction.
The official National Trust iPhone app is an invaluable piece of software if you have an iPhone, iPad or iTouch. If you are currently a National Trust member it can help organise your days out and give you ideas for new locations to visit. Even if you are not a National Trust member it can give you a great insight into what the National Trust has to offer and it is a free app after all!
The app can be downloaded free from iTunes by clicking here.
Click here for more details about National Trust membership.