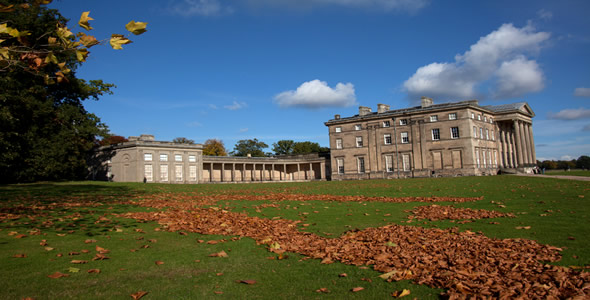 Name:
Attingham Park
Address:
Atcham, Shrewsbury, Shropshire, SY4 4TP
Telephone:
01743 708123
Attingham Park is a Grade I listed country house in Shropshire managed by the National Trust. It was built for the 1st Lord Berwick in 1785 and designed by George Steuart. The residence was owned by the same family for some 160 years.
Noel Hill, 1st Lord Berwick once said "Let wealth be his who knows its use". He certainly seemed to take this as a personal motto when Attingham Park was concerned because he poured much of his inheritance into the development of this classical house and chose to set it in full view of a public road in order to promote a view of his wealth to the world.
Attingham Park was designed by the Scot George Steuart in 1782 and it consists of a main three storey block with colonnaded corridors to pavilions on either side. The building facade stretches to 400 feet from pavilion to pavilion and there are 80 rooms in Attingham.
The house sites within 500 acres of parkland which includes woodlands (with mature oak, elm beech and pine trees) and a deer park that is home to 200 – 300 fallow deer depending on the season. The initial layout of the park was created by Thomas Leggett in 1769 – 1772 but the planting is reflective of the work of Humphry Repton. The river Tern runs through the centre of the park and joins the river Severn towards the outer boundary of Attingham Park.
Inside the property the dining room is a particular highlight along with the contrasting styles of the feminine boudoir and the masculine Octagon room. During a Grand Tour of Italy in the 19th century the 2nd Lord at Attingham Park began the acquisition of an extensive art collection which was added to by John Nash when he was commissioned to add the grand picture gallery between 1805 – 1807.
What's There?
A magnificent 80 room Grade I listed country house.
Beautiful parkland, woodland and a deer park.
A number of park walks through the wonderful grounds.
Eat and shop in the Carriage House Café.
Family games and children's quiz and trail.
Prices
Standard adult admission is £9.90 to see the mansion, park and walled garden. Each child costs £5.80 and a family ticket is £22.
Free admission for National Trust members.
See more information on National Trust Membership.