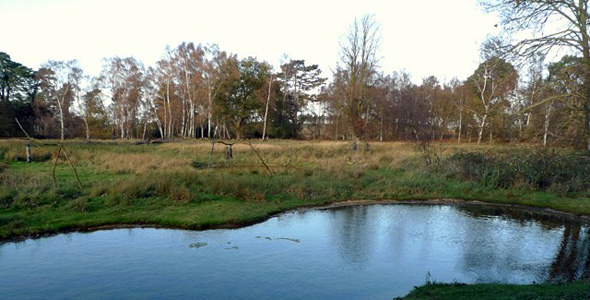 © Copyright Cameraman and licensed for reuse under a Creative Commons Licence.
Name: The Lodge RSPB Nature Reserve
Nearest town: Sandy
County: Bedfordshire
Grid reference: TL191485
Latitude/Longitude: 52.12195,-0.26177
Telephone: 01767 680541
The Lodge is a nature reserve near to the town of Sandy in Bedfordshire. The reserve is named "The Lodge" after the building on the site which is the national headquarters of the RSPB.
The reserve itself is one of the smaller reserves operated by the RSPB at approximately 180 hectares, but this does not stop it from being one of the most popular reserves by visitor numbers in the country. The Lodge consists of woodland, heath land and acid grassland and is sited on an ancient site of archaeological significance.
Some 9,000 years ago hunter gatherers roamed the lands where The Lodge is not sited and flint Mesolithic tools have been found. There are also two ancient Iron Age hill forts dating back just over 2,000 years at The Lodge. The fort at Galley Hill is still in relatively good condition and you are allowed to walk amongst it. Please note that due to the archaeological significance of the site there are no metal detectors allowed on the reserve.
Cycling is a popular pastime at The Lodge with three cycle routes available from Sandy. By taking the cycle routes you will be able to view the acid grassland, heath land and woodland that The Lodge has to offer. Similarly, walkers are also well catered for with approximately 5 miles of marked nature trails to follow. There is a circular trail that takes in the Iron Age fort at Galley Hill, the Sandy Ridge trail passes through grassland and woodland and is only recently opened, and there are short trails to the meadow hide and gardens. Please note that the old heath and The Lodge quarry trails have steep steps so are not suitable for wheelchair users or pushchairs.
There is a shop on site stocking RSPB products and you are able to buy hot and cold drinks and snacks. Please note that there is not a tea room at The Lodge but there are picnic areas.
Interesting birds that you may see at The Lodge at Sandy.
You may see some or all of the following different types of birds during your visit to the The Lodge RSPB nature reserve.
All year: Great Spotted Woodpecker, Green Woodpecker, Grey Heron, Kingfisher, Lesser Spotted Woodpecker, Sparrowhawk, Stonechat, Tawny Owl, Woodcock,
Spring: Chiffchaff, Cuckoo, Great Spotted Woodpecker, Green Woodpecker, Nightjar, Song Thrush, Turtle Dove.
Summer: Chiffchaff, Great Spotted Woodpecker, Green Woodpecker, Hobby.
Autumn: Buzzard, Fieldfare, Hobby, Nuthatch, Swallow.
Winter: Crossbill, Nuthatch, Redwing, Siskin, Song Thrush, Treecreeper.
Facilities
Hot and cold drinks on site.
Shop selling RSPB products.
Binocular hire available.
Car park (with bicycle racks).
Toilets (and disabled) available.
Guided walks available.
Picnic areas.
Great area for walking.
Pushchair friendly location.
Baby changing facilities at the reserve.
Opening times
The reserve is open every day of the year from 7:00 am to 9:00 pm (or until sunset, whichever is first).
Prices
Entrance to The Lodge nature reserve is free of charge if you are an RSPB member. For non-members there is a £6 per car charge to park in the car park.
RSPB membership is excellent value with a great range of benefits including free entry to a huge number of nature reserves. Take a look at the various RSPB membership options on offer.