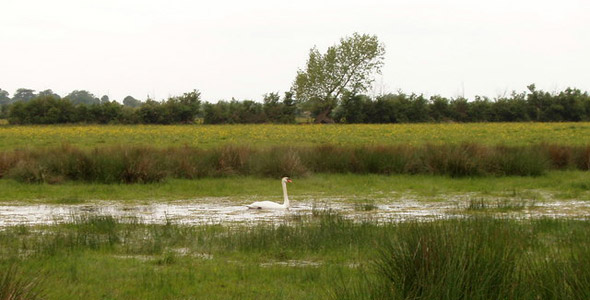 © Copyright David Hawgood and licensed for reuse under a Creative Commons Licence.
Name: Otmoor RSPB Nature Reserve
Nearest town: Oxford
County: Oxfordshire
Grid reference: SP570126
Latitude/Longitude: 51.809583,-1.173907
Telephone: 01865 351163
Otmoor is an RSPB nature reserve just outside Oxford that spans a total of 262 acres. It was once an extensive marshland but it suffered significant damage to the habitat due to drainage. The RSPB have been undergoing a program of restoration which when completed will see the nature reserve at Otmoor as one of national importance for bird lovers.
There are approximately 90 different species of birds that currently breed at Otmoor and the winter months see an influx of wildfowl and raptors such as the Short Eared Owl and the Peregrine.
If you visit Otmoor in the winter months you could be treated to the spectacular Starling roost in the reed bed.
Interesting birds that you may see
You may see some or all of the following different types of birds during your visit to the Otmoor RSPB nature reserve.
All year: Lapwing, Little Grebe, Little Owl, Pochard, Snipe, Shoveler, Sparrowhawk, Reed Bunting, Tufted Duck, Water Rail.
Spring: Curlew, Grasshopper Warbler, Marsh Harrier, Skylark, Snipe, Wheatear, Whinchat.
Summer: Corn Bunting, Curlew, Grasshopper Warbler, Hobby, Little Egret, Redshank, Reed Warbler, Quail, Yellow Wagtail.
Autumn: Ringed Plover, Ruff, Wheatear, Yellow Wagtail.
Winter: Gadwall, Hen Harrier, Jack Snipe, Peregrine, Pintail, Shelduck, Short Eared Owl, Stonechat, Teal, Wigeon.
Facilities
Car park (with cycle racks).
Remote location that is ideal for walking.
Pushchair friendly
Opening times
The reserve at Otmoor is open all year round from dawn until dusk.
Prices
It is free entry to the reserve at Otmoor, but the RSPB welcome donations wherever possible in order to help them to continue their excellent conservation and restoration work.
RSPB membership is excellent value with a range of great benefits including free entry to a huge number of nature reserves. Take a look at the various RSPB membership options on offer.