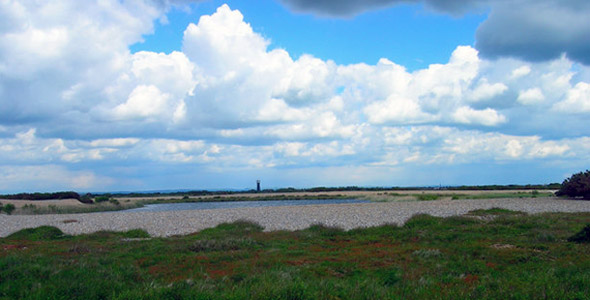 © Copyright Sebastian Ballard and licensed for reuse under this Creative Commons Licence.
Name: Dungeness RSPB Nature Reserve
Nearest town: Lydd
County: Kent
Grid reference: TR062197
Latitude/Longitude: 50.93980,0.93364
Telephone: 01797 320588
The RSPB reserve is one of the largest and most important sites in the county of Kent. At 1,200 acres it is a large reserve and the landscape consists of mile upon mile of gravel and shingle. Due to the fact that it is close to continental Europe it is an important site for the RSPB to study the migrationary patterns of sea birds in particular and these observations have been taking place since 1952 when the bird observatory was established on site.
You may be already familiar with the name Dungeness as it is the eponymously named nuclear power station which dominates the skyline. This large structure has in fact benefited some birds such as the Black Redstart which have taken to nesting on the building.
Dungeness has an excellent circular nature trail which runs for approximately 2 miles and is suitable for both pushchairs and wheelchairs. Along the main trail there are six hides.
There are regular events for bird watching beginners and family activities with members of staff on hand to help out.
Interesting birds that you may see at the Dungeness reserve
You may see some or all of the following different types of birds during your visit to the Dungeness RSPB nature reserve.
All year: Bearded Tit, Black Redstart, Mediterranean Gull, Various dabbling and diving Ducks.
Spring: Eider, Garganey, Grebe, Reed Warbler, Little Ringed Plover, Sedge Warbler, Serin, Yellow Wagtail.
Summer: Cormorant, Hobby, Little Gull, Wheatear, Yellow Wagtail.
Autumn: Goldeneye, Sand Martin, Wheatear, Marsh Harrier.
Winter: Goldeneye, Golden Plover, Goosander, Merlin, Peregrine, Stonechat, Smew, Wigeon.
Facilities
Information centre.
Visitors centre.
Shop selling gifts, hot and cold drinks and confectionary.
Six hides.
A 2 mile nature trail.
Guided walks available.
Car park (with cycle racks).
Toilets (and disabled toilets).
Binocular hire.
Pushchair friendly.
Picnic area.
Opening times
The reserve at Dungeness is open all year round from 9am to 9pm and the visitors centre opens from 9am to 5pm.
Prices
Entry to Dungeness is free from RSPB members. The price for non-member adults is £3, concessions £2, under 16s cost £1 and a family ticket costs £6.
RSPB membership is excellent value with a range of great benefits including free entry to a huge number of nature reserves. Take a look at the various RSPB membership options on offer.