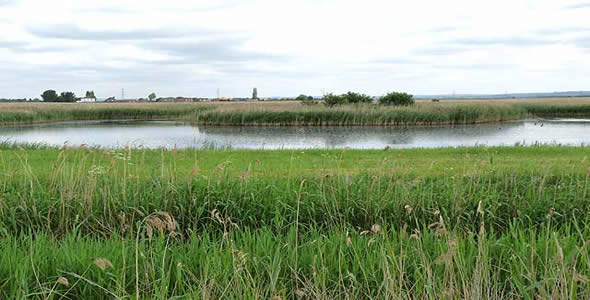 Picture is copyright Oliver Dixon and licensed for reuse under a Creative Commons Licence.
Name: Blacktoft Sands RSPB Nature Reserve
Nearest town: Goole
County: East Yorkshire
Grid reference: SE843232
Latitude/Longitude: 53.69844,-0.72462
Telephone: 01405 704665
The tidal reed bed at Blacktoft Sands is the largest in England and it is home to breeding Bearded Tits, Bitterns and Marsh Harriers among the other 270 different species of birds you will see at this RSPB reserve.
The reserve consists of lagoons, grazing marsh and reed beds and autumn is a particularly good time to visit as a lot of waders are attracted to the reserve. If you visit at high tide you will see many of the birds feeding out on the Humber at low water.
Marsh harriers are a spectacular sight at Blacktoft Sands in summer especially if you are lucky enough to see them passing food to each other in mid air during their breathtaking courtship displays.
Interesting birds at Blacktoft Sands
You may see some or all of the following different types of birds during your visit to the Blacktoft Sands nature reserve.
All year: Barn Owl, Bearded Tit, Bittern, Gadwall, Shelduck, Shoveler, Redshank, Water Rail.
Spring and autumn: Garganey, Hobby, Little Gull, Marsh Harrier, Terns, Yellow Wagtail, Wheatear, Winchat.
Summer: Avocet, Grasshopper, Sedge and Reed Warblers, Short Eared Owl.
Winter: Hen Harrier, Peregrine, Merlin, Wildfowl and Waders.
Facilities
There is an information centre.
Baby-changing facilities.
Car park with car and coach parking along with cycle racks.
Toilets (and disabled toilets).
Many beautiful walks and guided walks.
Pushchair and wheelchair friendly.
Group bookings can be taken.
Opening times
The visitor centre is open from 9.00am to 9:00pm everyday apart from Christmas day.
Prices
Entry is free for RSPB members, £3.00 for non member adults, £2.00 for concessions and £1.00 for children. A family ticket is £6 for two adults and up to 4 children.
RSPB membership is excellent value with a range of great benefits. To visit Blacktoft Sands free of charge take a look at the various RSPB membership options on offer.