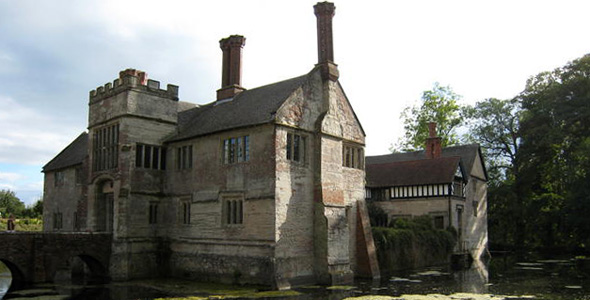 Picture is copyright David Stowell and licensed for reuse under a Creative Commons Licence.
Name: Baddesley Clinton
Address: Rising Lane, Baddesley Clinton, Warwickshire B93 0DQ.
Telephone: 01564 783294
Baddesley Clinton is a romantically styled medieval manor house set in the remnants of the Forest of Arden just 15 miles south of Birmingham. It is has been the family home of the Ferrers for some 500 years and it was a house that was often the home of Catholics that were subject to religious persecution at the time.
The present house dates for the 15th century and is built around three sides of a courtyard. It is surrounded by a wide moat, but it is thought that the moat was built to protect an earlier building. To gain access to Baddesley Clinton you need to walk the 18th century two arched bridge that leads to the gatehouse.
Although from the exterior the house can look rather foreboding, the interior rooms are small, and intricately decorated largely with fine 17th and 18th century oak furniture. There are a range of interesting features inside the house that reflect the history of the type of people that resided over the years. The owners, the Ferrers, were Roman Catholic Recusants after the Reformation who sheltered Catholic priests who were under the threat of a death sentence if they were discovered. Therefore, the house contained a number of areas that were built with a view to hiding occupants. There are several priest holes with secret passages and hidden doors in walls and ceilings. It is believed that the priest holes were built by Saint Nicholas Owen who was later tortured to death when caught by the English Protestant government of the time.
The Ferrers were owners of Baddesley Clinton since 1500 when it passed to Sir Edward Ferrers (High Sheriff of Warwickshire) through marriage and remained in the family until 1940 when it was purchased by Thomas Walker who was a relative of the Ferrers and subsequently changed his name to that of Ferrers. His son inherited the estate in 1970 and sold the estate to the National Trust in 1980 who have owned and maintained it ever since.
What's There?
An exceptional moated medieval manor house.
See the priest holes as used in 1591 to hide Catholics.
Peaceful gardens, lakes and walks.
Eat at the Barn Restaurant (licensed).
Cycle on the 1.5 mile public bridleway.
Car park.
Baby change.
Children's guide.
House trail for kids.
Trivia
Baddesley Clinton was in the ownership of the Ferrers family for 500 years.
Prices
Admission to the house and grounds at Baddesley Clinton is £8.80 per adult, £4.45 per child and a family ticket costs £22.25.
There is free admission for all National Trust members.
See more information on becoming a member of the National Trust.