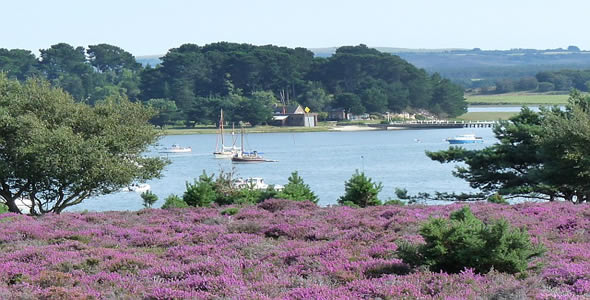 Picture is copyright Robin Drayton and licensed for reuse under a Creative Commons Licence.
Name: Arne RSPB Nature Reserve
Nearest town: Wareham
County: Dorset
Grid reference: SY971876
Latitude/Longitude: 50.68888,-2.04102
Telephone: 01929 553360
Arne is a very popular RSPB nature reserve for bird watchers and nature lover in general and offers a wide range of wildlife and landscapes to be enjoyed. Approximately 90,000 people visit the reserve each year and there are a number of spectacular walks through the open heath land and the old oak woodland that can be enjoyed by the whole family and there are regular children's days organised by the RSPB.
The reserve at Arne looks over the Poole harbour so you will be able to see a range of wading birds such as avocets and black-tailed godwits and if you are lucky you may be treated to a view of an Osprey.
April 2009 saw the opening of an eco-friendly information centre that features nest cameras, a wood burner, information about the reserve and the wildlife that you are likely to see and a hot drinks vending machine. It is from here that you can organise guided walks led by experienced RSPB staff that will advise you on how and where to view some of the rarer species that visit Arne.
Arne is an excellent nature reserve for keen walkers. Popular nature trails are the Shipstal Trail which features panoramic views of Poole Harbour and most parts of the reserve and along the was there is a double-decker bird hide which affords views of the salt marsh and mudflats at Arne Bay. The Shipstal Trail is approximately 4 miles long. Another popular walk is the Coombe Trail which is a round trip of 0.8 miles and takes in views over the Middlebere Channel and out over the harbour.
Interesting birds at Arne
You may see some or all of the following different types of birds during your visit to the Arne nature reserve.
All year: Little egret, various wading birds.
Spring: Dartford warbler, Great spotted woodpecker, Stonechat, Wheatear.
Summer: Barn owl, Hobby, Nightjar, Sandwich tern.
Autumn: Brent goose, Marsh harrier, Osprey, Spoonbill
Winter: Avocet, Hen harrier, Merlin, Red-breasted merganser
Facilities
There is an excellent information centre that also sells hot drinks.
Many scenic walks and guided walks.
Pushchair and wheelchair friendly.
Group bookings can be taken.
Prices
Entry is free for all RSPB members. For non members the fees are worked out on a per car basis – £2 for up to two hours and £4 for four hours or over.
RSPB membership is excellent value with a range of great benefits. To visit the Arne reserve free of charge take a look at the various range of RSPB membership options on offer.