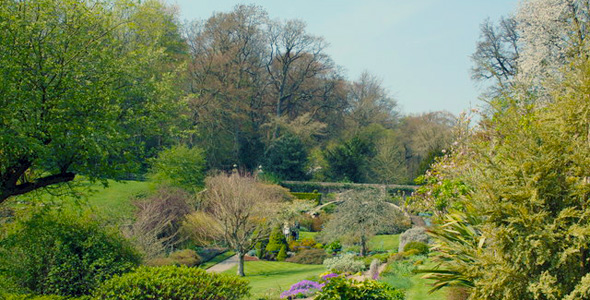 Picture is copyright David Robinson and licensed for reuse under a Creative Commons Licence.

Name: Wallington
Address: Cambo, Morpeth, Northumberland, NE61 4AR.
Telephone: 01670 773967
Wallington is a Grade I listed country house managed by the National Trust and located near to Morpeth in Northumberland. The estate consists of 100 acres and set amongst it is the imposing Wallington Hall which was built in 1688 for Sir William Blackett. It was later rebuilt for Sir Walter Calverley Blackett and designed by the architect Daniel Garrett c.1738 in the style now seen.
Wallington was designed with a conservative Palladian exterior, but this is belied by the extraordinary interior of the property. Magnificent examples of Pietro Lafrancini's rococo plasterwork can be found in the saloon with depictions of winged sphinxes. The parlour features a Meissen tea set which features paintings of life size insects sitting in the bottom of each cup. There is also a Cabinet of Curiosities which contains a range of items from a piece of Edward IV's coffin to stuffed birds set against painted backdrops of their natural habitats.
The house has a famous Pre-Raphaelite central hall which was decorated to look like an Italian courtyard and shows a series of eight epic paintings that reproduce important events in the history of Northumberland such as the death of the Venerable Bede and the landing of the Vikings. The hall was created between 1853 – 1854 and it was the work of Pauline Trevelyan.
The striking interior of the house is in contrast with the tranquil and restrained gardens at Wallington. There are a series of lawns, lakes, woodland and parkland to explore and the walled garden features a delightful conservatory and plant collection.
The National Trust run a farm shop which is operated from Wallington and offers a wide variety of fresh, local and quality produce to buy such as meats, pies, breads, chesses and various other dairy products. This is the only National Trust farm shop in the North East of England.
What's There?
An impressive Palladian style country house.
Magnificently opulent interior decoration.
Spectacular views and walks through woodland and parkland.
See red squirrels from the wildlife hide at Wallington.
A National Trust farm shop.
Clocktower café
Car park.
Baby change.
Children's play area.
Children's quiz/trial and tracker packs available.
Trivia
The only National Trust farm shop in the North East of England can be found at Wallington.
Prices
Admission to the house, garden and grounds at Wallington is £9.70 per adult, £5.40 per child and a family ticket costs £24.25. Please note that there is no credit/debit card machine on the site.
There is free admission for all National Trust members.
See more information on National Trust Membership.