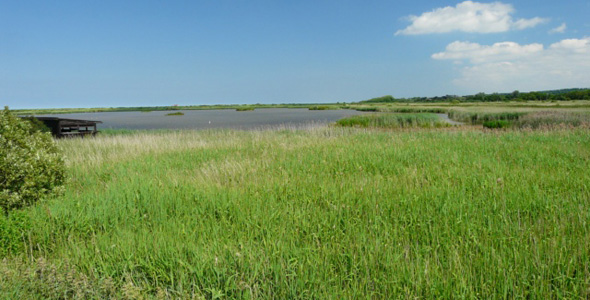 © Copyright Graham Taylor and licensed for reuse under a Creative Commons Licence.
Name: Titchwell Marsh RSPB Nature Reserve
Nearest town: Hunstanton
County: Norfolk
Grid reference: TF750438
Latitude/Longitude: 52.96298,0.60418
Telephone: 01485 210779
Titchwell Marsh is a nature reserve operated by the RSPB on the north Norfolk coast. It is one of the most popular of all RSPB nature reserves in Britain with over 100,000 people visiting each year to see the varied landscape and wildlife at the reserve. Titchwell (sometimes referred to as Twitchwell due to the popularity of the reserve amongst bird watchers) consists mainly of marshlands, reed beds, shallow lagoons and a sandy beach.
There are several hides which offer a fantastic platform to see the local bird life. The viewing platform that is located on the edge of the sand dunes is an excellent vantage point to see a variety of wading birds, migrating Skuas and Grebes out to sea. The Island gives you views over the freshwater marsh and freshwater reed bed which often contains bearded tits. The Fen hide which also overlooks the freshwater reed bed is a great location to spot marsh harriers and the Parrinder hides is the latest addition.
Walkers are well catered for at Titchwell and are treated to three main nature trails, all of which are accessible to wheelchair users and pushchairs. The longest trail is 1 kilometre long and runs from the visitor's centre to the beach, the fen and meadow trails take in 120 metres of path and 140 metres of boardwalk.
The site at Titchwell is not only a haven for wildlife; it is also a site of archaeological significance. Some 9,000 years ago the area where Titchwell stands was thought to be dense forest which stretched far out into the North Sea. It is believed that you could have walked on dry land as far as Denmark during this time. However, gradual sea level rises covered much of the area over time causing the trees to fall and form peaty deposits. Flint artefacts from Mesolithic man have been found at Titchwell leading to the belief that hunter gatherers roamed the area extensively.
In the 20th century Titchwell saw a very different use – as a gunnery range for training tank crews during the Second World War. Interestingly there are the partially buried remnants of two Covenanter tanks that can be found on the beach!
Recognising the popularity of the reserve, the RSPB have ensured that visitors are well catered for by providing facilities for hot and cold food in a heated food area, and a fully stocked RSPB shop.
Interesting birds that you may see at Titchwell Marsh.
You may see some or all of the following different types of birds during your visit to the Titchwell Marsh RSPB nature reserve.
All year: Bearded Tit, Bittern, Little Egret, Marsh Harrier, Water Rail.
Spring: Bittern, Black Tern, Garganey, Marsh Harrier, Reed Warbler, Sedge Warbler, Spoonbill.
Summer: Avocet, Black-Headed Gull, Little Tern, Marsh Harrier, Reed Warbler, Sedge Warbler.
Autumn: Bearded Tit, Black-Tailed Godwit, Curlew Sandpiper, Greenshank, Knot, Little Stint, Redstart, Spotted Redshank.
Winter: Brent Goose, Common Scoter, Eider, Hen Harrier, Pink-Footed Goose, Red-Breasted Merganser, Shorelark, Snow Bunting.
Facilities
Information centre
Visitor's centre.
Hot and cold drinks and food on site.
Shop selling RSPB products.
Binocular hire available.
Car park.
Toilets (and disabled) available.
Guided walks available.
Picnic areas.
Great area for walking.
Pushchair and wheelchair friendly location.
Opening times
The reserve is open every day of the year from 9.30 am to 5 pm apart from on Christmas Day and Boxing Day when the visitors centre and shop close.
Prices
Entrance to Titchwell Marsh reserve is free of charge if you are an RSPB member. For non-members there is a £4 per car charge to park in the car park. If you are a member of the RSPB parking is free but remember to have your RSPB membership card on the dashboard of your car.
RSPB membership is excellent value with a range of falulous benefits including free entry to a huge number of nature reserves. Take a look at the various RSPB membership options on offer.