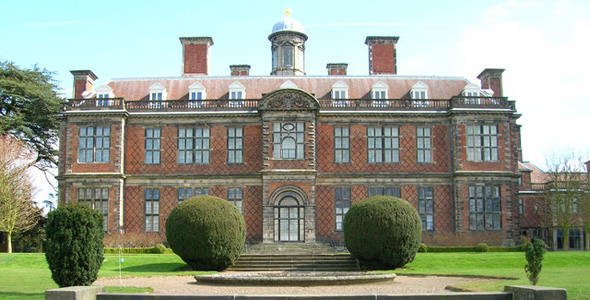 Picture is copyright JThomas and licensed for reuse under a Creative Commons Licence.
Name: Sudbury Hall
Address: Sudbury Hall and the National Trust Museum of Childhood, Sudbury, Ashbourne, Derbyshire DE6 5HT
Telephone: 01283 585305
Sudbury Hall is a Grade I listed country house in Derbyshire which is currently maintained by the National Trust and is open to the public to view. It was created during the reign of Charles II and was built between 1660 and 1680 by George Vernon, grandfather of George Venables-Vernon the 1st Baron Vernon.
The Great Staircase and the Long Gallery are areas of note internally within Sudbury as are the exquisite woodcarvings by the noted craftsmen Grinling Gibbons and Edward Pierce. The balustrade of the staircase by Pierce is thought to be one of the most elaborate carvings of its type at that time and the woodwork over the fireplace by Gibbons is among some of his finest work. There are paintings at Sudbury Hall by the likes of Laguerre, Lawrence, Hoppner, and J.M. Wright.
The National Trust took ownership of Sudbury Hall after the Vernon family gifted the estate to them in 1967.
National Trust Museum of Childhood
Housed in the 19th century servants' quarters at Sudbury is the newly opened National Trust Museum of Childhood which contains a range of exciting activities, toys and galleries for young and old. The three year, £2.2 million redevelopment of the museum has seen the introduction of a number of interactive attractions for children such as recreations of scenes and times from over the years including Victorian street life and the life of servants such as chimney sweeps as well as many different toys.
The National Trust Museum of Childhood offers sights and sounds that will captivate the imagination of both young and old.
What's There?
A magnificent Grade I listed country house.
The National Trust Museum of Childhood.
Gift and museum shop.
Stableyard Tearoom serving homemade produce.
Car park.
Baby change and feeding facilities.
Children's quiz and trail.
Children's guide.
Children's activity packs.
Family activities.
Trivia
Sudbury Hall is home to the National Trust Museum of Childhood.
Filming of the BBC TV drama of Jane Austen's Pride and Prejudice took place at Sudbury Hall in 1995.
Prices
Admission to Sudbury Hall and the National Trust Museum of Childhood is £13.18 per adult, £7.09 per child and a family ticket costs £33.45.
There is free admission for all National Trust members.
See more information on becoming a member of the National Trust or see more details on a joint or family National Trust membership.