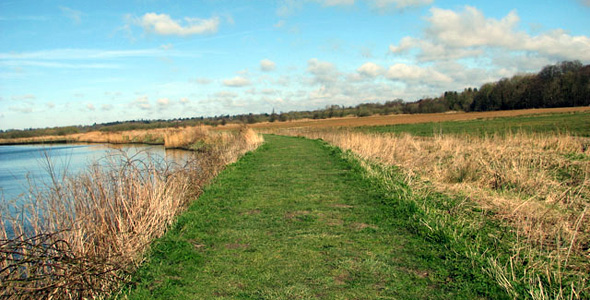 © Copyright Evelyn Simak and licensed for reuse under this Creative Commons Licence.
Name: Strumpshaw Fen RSPB Nature Reserve
Nearest town: Norwich
County: Norfolk
Grid reference: TG341065
Latitude/Longitude: 52.60577,1.45595
Telephone: 01603 715191
Strumpshaw Fen is an RSPB nature reserve located in the beautiful Norfolk Broads and is home to a wide variety of bird, insects and rare creatures. The reserve consists of a reed bed with some open water which is bordered by scrub. The RSPB are currently working on a plan of action to remove large areas of scrubland from the reserve to make viewing easier at this Site of Special Scientific Interest (SSSI).
The reserve is home to a wide variety of birds that spend winter on the pools and varieties that breed in the reed beds such as March Harriers and Bitterns. You will also find the rare Swallowtail butterfly at Strumpshaw – this variety of the butterfly is isolated to the Fens of Norfolk and Suffolk. If you are lucky you might even spot one of the selection of mammals living at the Fen including, Otters, Water voles and Chinese water deer!
There are three hides at Strumpshaw Fen (one of which is a tower hide affording great views) and two pleasant circular nature trail walks. The fen trail is 2.3 miles and the woodland trail is slightly shorter at 1.6 miles. In addition to the excellent walking, cycling is also a very popular pastime as the Fen is on the Yare Valley Cycle Route.
Strumpshaw Fen is a great nature reserve for children to attend as there are Wildlife Explorer backpacks available for hire free of charge and regular family days organised throughout the year.
Interesting birds at Strumpshaw Fen
You may see some or all of the following different types of birds during your visit to the Strumpshaw Fen nature reserve.
All Year: Bearded Tit, Cetti's Warbler, Gadwall, Great Crested Grebes, Greater Spotted Woodpecker, Green Woodpecker, Kingfisher, Lapwing, Lesser Spotted Woodpecker, Little Crested Grebe, Pochard, Snipe, Shoveler, Redshank, Water Rail.
Spring: Bittern, Cuckoo, Great Spotted Woodpecker, Marsh Harrier, Sedge Warbler.
Summer: Barn owl, Hobby, Marsh Harrier, Reed Warbler, Yellow Wagtail.
Autumn: Bearded Tit, Lesser Redpoll, Siskin, Teal.
Winter: Bittern, Goldeneye, Hen Harrier, Merlin, Pintail, Starling, Teal.
Facilities
Information centre.
Three viewpoints at the reserve (one of which is a tower).
Wheelchair accessible viewing point.
Car park along with cycle racks.
Toilets (and disabled toilets).
Picnic area.
Guided walks are available.
Group bookings can be taken.
Baby changing facilities available.
Pushchair friendly
Great for walking and cycling.
Opening times
The nature reserve at Strumpshaw Fen is open daily from dawn to dusk except on Christmas Day.
Prices
For non-RSPB members the charges to enter the reserve are £2.50 for adults, 50p for children, £1.50 concessions and £5 for a family ticket.
Free entry for all RSPB members.
RSPB membership is excellent value with a range of great benefits. Take a look at the various RSPB membership options.