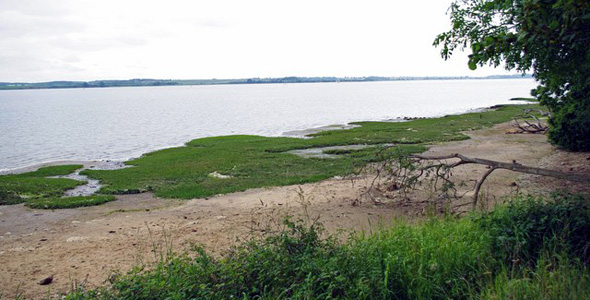 © Copyright Glyn Baker and licensed for reuse under a Creative Commons Licence.
Name: Stour Estuary RSPB Nature Reserve
Nearest town: Harwich
County: Essex
Grid reference: TM190310
Latitude/Longitude: 51.93435,1.18435
Telephone: 01206 391153
The Stour Estuary RSPB reserve lies on the Essex/Suffolk border and lies on the south shore of the Stour Estuary. Unusually, this reserve includes both woodland and estuarine species of bird because Stour Wood is included within the border of this small 250 acre reserve.
The woodland is predominantly made up of sweet chestnut and oak and is home to three varieties of woodpecker and Nightingales in the summer. The best time to view birds in the woodland area is in the spring and summer months, whilst the estuary is best viewed in autumn and winter.
The estuary is fairly shallow so it is not conducive to diving duck varieties but it is attractive to waders and wildfowl such as Shelduck, Teal, and Greenshank. Black Tailed Godwits are known to congregate in large numbers on the estuary.
This nature reserve is particularly attractive to keen walkers because it offers the rare opportunity to view both woodland birds and wading birds on the same walk. There are two main trails which can be followed that range from 1 mile to just over 4 miles in length which will offer views of the wood and the estuary. Along the way there are 2 hides and 1 viewing screen.
Interesting birds that you may see at Stour Estuary.
You may see some or all of the following different types of birds during your visit to the Stour Estuary RSPB nature reserve.
All year: Great Spotted Woodpecker, Green Woodpecker, Lesser Spotted Woodpecker.
Spring: Blackcap, Black-Tailed Godwit, Nightingale, Ringed Plover.
Summer: Common Tern, Garden Warbler, Nightingale, Oystercatcher.
Autumn: Dunlin, Long-Tailed Tit, Oystercatcher, Redwing.
Winter: Black Tailed Godwit, Brent Goose, Goldeneye, Grey Plover, Knot, Pintail, Shelduck, Teal.
Facilities
Information centre.
Car park (with cycle racks).
Guided walks available.
Picnic areas.
Remote location that is ideal for walking.
Pushchair friendly location.
Opening times
The reserve trails at the Stour Estuary reserve are open on a daily basis, but the car park is locked from 7pm (or dusk) at night until 6am the following morning.
Prices
Entry to Stour Estuary is free but any donation from non-RSPB members to the RSPB is always welcomed.
RSPB membership is excellent value with a range of great benefits including free entry to a huge number of nature reserves. Take a look at the various RSPB membership options on offer.