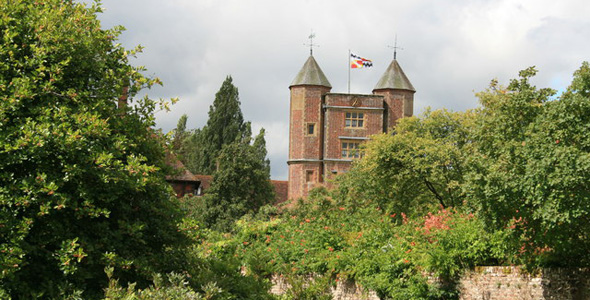 Picture is copyright David Robinson and licensed for reuse under a Creative Commons Licence.
Name: Sissinghurst Castle
Address: Sissinghurst Castle, Biddenden Road, near Cranbrook, Kent, TN17 2AB.
Telephone: 01580 710701
The garden at Sissinghurst Castle is one of the most well known and well loved in England. The garden lies within the ruins of an Elizabethan house near to Cranbrook in Kent and the garden and surrounding countryside which includes woodland, farmland and streams with views from all sides is spectacular.
Originally there is evidence of a settlement at Sissinghurst as early as the 12th century and during the Middle Ages a stone manor house was built with a three armed moat (two arms still exist today). Sissinghurst has a history of royal visits and in 1305 Edward I stayed in residence overnight. The Baker family came to Sissinghurst in c.1490 and the building was improved by the family, notably by Sir John Baker in 1535 who added a brick gatehouse and was enlarged in the 1560s by his son Sir Richard Baker when it was made the centre of a 700 acre deer park. The estate was of such importance at this time that Queen Elizabeth I spent three nights at Sissinghurst in 1573.
In 1756 the house was let out to the government to act as a prisoner of war camp for French prisoners. Over seven years a total of 3,000 prisoners of war were kept at Sissinghurst. These prisoners coined the term "Castle" in relation to Sissinghurst. After the war the estate fell into disrepair and the house was used as a home for farm labourers.
Sissinghurst Castle reverted to the Cornwallis family in 1855 and they oversaw the building of the farmhouse as the old buildings were no longer habitable. In 1928 the estate was put up for sale and was bought by Vita Sackville-West in 1930 as a location for her to make a new garden along with 400 acres of land.
The layout and planting of the garden in which we see today was heavily influenced by the work of Gertrude Jekyll and Edwin Lutyens and is known for its romantic scenery and spectacular colours which can be seen all season. The garden first opened to the public in 1938. Vita died in 1962 so her husband thought that a fitting tribute would be to transfer ownership to the National Trust so that the public could continue to enjoy the splendour of the garden which he did in 1967.
What's There?
A beautiful historic English country garden.
An exhibition detailing the history, and horticultural background of Sissinghurst.
Eat at The Granary Restaurant (licensed).
Shop selling local gifts, crafts and plants.
Coffee shop.
Car park.
Baby change.
Children's quiz and trail.
Children's activity packs.
Trivia
Elizabeth I and Edward I both stayed at Sissinghurst.
In 2009 it was the subject of an eight part BBC Four documentary called Sissinghurst which documented the history of the house and gardens at Sissinghurst.
Prices
Admission is £10 per adult, £5 per child and a family ticket costs £25.
See more information on becoming a member of the National Trust or see more details on joint or family National Trust membership.