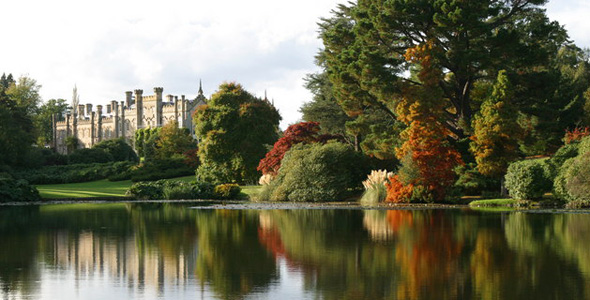 Picture is copyright Stuart Logan and licensed for reuse under a Creative Commons Licence.
Name: Sheffield Park and Garden
Address: Sheffield Park, East Sussex, TN22 3QX
Telephone: 01825 790231
Sheffield Park Garden is a historic garden situated close to Haywards Heath in East Sussex which is managed and maintained by the National Trust. The National Trust purchased approximately 100 acres in 1954 and has added a further 100 acres of surrounding woodland over the years.
Sheffield Park is a historic area that was originally mentioned in the Doomsday Book and notably in August 1538 Thomas Howard, 3rd Duke of Norfolk invited Henry VIII there. The year 1700 saw the establishment of the Deer Park by Lord De La Warr who also set about the task of planting avenues of trees and clearing areas for lawns. The famous landscaper 'Capability' Brown saw the landscaping of the garden in the 18th century and his work was continued in 1789 – 1790 by Humphry Repton whilst the house was renovated in the fashionable gothic style of the time by the noted James Wyatt.
There are stunning walks around the estate all year round with breathtaking views and the peaceful tranquillity of the four lakes that form the centrepiece of the garden is something to behold.
The year 1885 saw the establishment of an arboretum consisting of exotic and native trees and when Arthur Soames purchased the estate in 1910 he continued the planting scheme which culminated in Sheffield Park Garden becoming one of the most impressive gardens in Britain.
What's There?
One of Britain's finest gardens.
Play on the cricket pitch that saw the first match between Australia and England.
Beautiful walks around glass-like lakes.
A tea room.
A shop selling local produce and plants.
Car park.
Baby change facilities.
Pushchair friendly.
Children's quiz/trial.
Family activity packs available.
Trivia
The very first cricket match between England and Australia took place at Sheffield Park Garden. When the third Earl of Sheffield inherited the estate in 1876, one of the first of his acts was to create a cricket pitch. Lord Sheffield's England team which included W.G. Grace entertained the Australia 1st XI when the Australians toured between 1884 and 1896. The first match saw the Australian team win by an innings and 6 runs.
Sheffield Park Garden was once the home of a Canadian armoured division during the Second World War and Nissan huts were situated throughout the garden and woodland.
Prices
Admission to the house, garden and park is £8.15 per adult, £4.05 per child and a family ticket costs £20.
There is free admission for all National Trust members.
See more information on National Trust Membership.