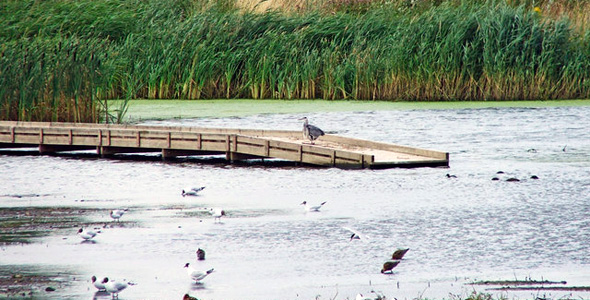 © Copyright Christine Matthews and licensed for reuse under a Creative Commons Licence.
Name: Rye Meads RSPB Nature Reserve
Nearest town: Hoddesdon
County: Hertfordshire
Grid reference: TL389103
Latitude/Longitude: 51.77410,0.01183
Telephone: 01992 708383
The RSPB nature reserve at Rye Meads is part of the Lee Valley which lies beside the River Lee and the area is internationally known for its diverse bird life. Rye Meads is an excellent reserve to view and photograph birds because there are 10 different hides from which you will be able to observe the wildlife.
In addition to the 10 hides, there are 3 trails, all of which are suitable for wheelchair users and pushchairs. The Moorhen trail is a leisurely 0.3 miles, the Kingfisher trail is half a mile and the Otter trail is 1.5 miles in length.
The reserve consists of a series of scrapes, scrubland, reeds and a lake with artificial sandbanks which is an ideal location to spot the elusive Kingfisher.
Families are welcome at Rye Meads and there are Explorer Backpacks for the children to help them learn about the birds and the native wildlife on the reserve. There is also a visitor's centre where you will be able to speak to knowledgeable staff and enjoy a hot drink.
Interesting birds that you may see at Rye Meads.
You may see some or all of the following different types of birds during your visit to the Rye Meads RSPB nature reserve.
All year: Gadwall, Great Crested Grebe, Kingfisher, Little Grebe, varieties of Woodpecker.
Spring: Common Sandpiper Common Tern, Gadwall, Green Sandpiper, Shoveler.
Summer: Common Tern, Cuckoo, Hobby, Reed Warbler.
Autumn: Fieldfare, Green Sandpiper, Redwing, Starling.
Winter: Bittern, Gadwall, Goldeneye, Jack Snipe, Redpoll, Shoveler, Siskin, Snipe, Teal, Tufted Duck, Water Pipit, Water Rail.
Facilities
Visitor centre.
Hot drinks on site.
Live camera on the reserve.
Binocular hire available.
Car park (with cycle racks).
Toilets (and disabled) available.
Guided walks available.
Picnic areas.
Great area for walking.
Pushchair and wheelchair friendly location.
Opening times
The reserve at Rye Meads is open every day from 10 am to 5 pm or dusk (whichever is first). The reserve is closed on Christmas Day and Boxing Day and the gates are locked at the reserve when it closes.
Prices
Entry to Rye Meads is free of charge but any donation from non-RSPB members to the RSPB is always very welcome. If you are arriving by car there is a £2 car parking fee for non-RSPB members. If you are a member of the RSPB parking is free but remember to have your RSPB membership card on the dashboard of your car.
RSPB membership is excellent value with a great range of benefits including free entry to a huge number of nature reserves. Take a look at the various RSPB membership options on offer.