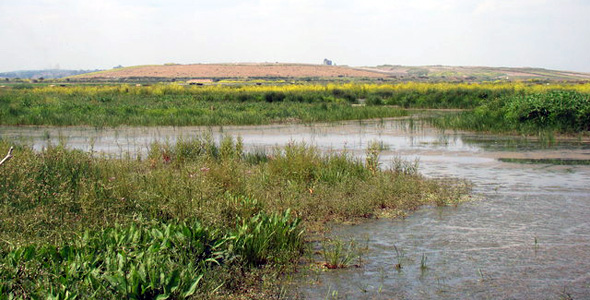 © Copyright Robert Lamb and licensed for reuse under this Creative Commons Licence.

Name: Rainham Marshes RSPB Nature Reserve
Nearest town: Purfleet
County: Essex
Grid reference: TQ552792
Latitude/Longitude: 51.49040,0.23413
Telephone: 01708 899840
Rainham Marshes is a relatively new nature reserve managed by the RSPB. The land which is located next to the River Thames was obtained by the RSPB in 2000, and prior to this the area had been closed to the public for some 100 years and was used during that time as a firing range by the Ministry of Defence.
Since 2000 when the RSPB took over, the area has seen huge changes after a long history of neglect. The RSPB has been working hard to restore the natural habitat for a wide range of birds and improve the biodiversity of the area. Improvements to the marsh include the introduction unflooded and flooded areas and semi-permanent pools. There are also plans to improve the ditch area to sustain and enhance the habitat for water voles, amphibians and breeding birds.
The facilities for visitors to Rainham Marshes are excellent with a state of the art visitor centre having been completed in 2006 at a cost of £2 million. There are several viewing areas, two bird hides and a Marshland Discovery Zone which is aimed at families that visit. Guided walks are available across a variety of nature trails at the reserve. Rainham Marshes is also a great location for keen cyclers. A recent cycle route has been completed that links the towns of Purfleet and Rainham and runs alongside the reserve, following the River Thames.
Birds you may find at Rainham Marshes
The following species of birds can often be seen at Rainham Marshes –
Spring: Curlew, Hobby, House Martin, Marsh Harrier, Oystercatcher, Reed Bunting, Sand Martin, Skylark, Stonechat, Swift, Wheatear.
Summer: Avocet, Black-tailed Godwits, Dunlin, Greenshanks, Hobby, Lapwing, Little Egret, Oystercatcher, Sandpiper, Sedge Warbler, Snipe, Starling, Swift, Ruff, Whimbrel, Yellow Wagtail.
Autumn: Arctic Tern, Avocet, Barn Owl, Bearded Tit, Black-tailed Godwit, Garganey, Goshawk, Hen Harrier, Jackdaw, Meadow Pipit, Merlin, Peregrine, Short-eared Owl, Stonechat, Whinchat, Wigeon.
Winter: Black-tailed Godwit, Bullfinch, Chiffchaff, Curlew, Dunlin, Golden Plover, Kingfisher, Lapwing, Rock Pipit, Shelduck, Short-eared Owl, Snipe, Wigeon.
Facilities
New £2 million visitor centre.
Car park.
Cafe serving hot and cold drinks, sandwiches and snacks.
Shop selling binoculars, various bird paraphernalia and cold weather clothing.
Toilets (also disabled toilets).
Guided walks are available.
Group bookings can be taken.
Adventure and toddler's playground.
Wildlife garden.
Baby change facilities.
Picnic area.
Pushchair friendly.
Excellent for walking.
Opening times
Rainham Marshes is open to the public between the hours of 9:30am to 4:30pm. The nature reserve is closed on Christmas Day and Boxing Day.
Prices
To use the car park at Rainham Marshes there is a voluntary £1 fee. Non-RSPB members are charged £3 per adult, £1.50 per child or £9 for a family ticket (this includes entry for two adults and up to four children).
Entry is free for RSPB members and residents that live in Havering and Thurrock.
RSPB membership is excellent value with a range of great benefits. Take a look at the various RSPB membership options.