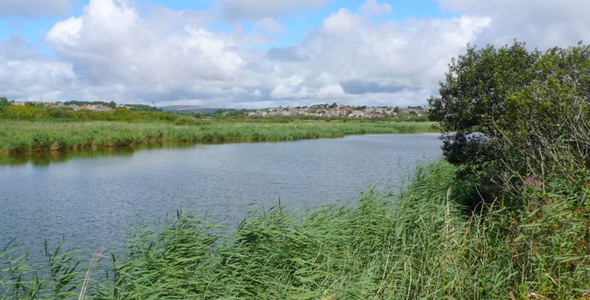 © Copyright Bob Jones and licensed for reuse under a Creative Commons Licence.
Name: Radipole Lake RSPB Nature Reserve
Nearest town: Weymouth
County: Dorset
Grid reference: SY671804
Latitude/Longitude: 50.62230,-2.46648
Telephone: 01305 778313
The reserve at Radipole Lake is set in the heart of central Weymouth on Dorset's Jurassic coast and is a mosaic of reed beds, scrub and lagoons. It is one of the smaller nature reserves operated by the RSPB at just 220 acres, but it is one of the best places in the country to see the elusive Cetti's Warbler.
The wetland is home to a variety of warbler, wildfowl and waders and it is an excellent reserve to visit for families and new bird watchers. Due to the central location of the reserve, it is easy to reach by car and public transport and there are regular bird watching events, and family activities such as bug hunts and pond dipping.
The reserve is on the Weymouth cycle route one and it is only a short walk from the local train station. The cycle route offers spectacular views of Radipole Lake and the reed beds.
There are two nature trails and two main viewing areas. The nature trails are relatively short at just 0.75 mile and 1.2 miles respectively. There is a viewing shelter approximately half a mile from the visitors centre and a hide which is roughly three quarters of a mile from the visitors centre.
The Visitor Centre closed temporarily in January 2012 as the RSPB is embarking on an exciting programme of improvements to create a second-to-none destination for people to connect with nature. The reserve is still open however and events are being held such as pond dipping and guided walks. To find out about events please visit the website at www.rspb.org.uk/events.
The new Visitor Centre will be officially opened in May 2012 and will contain fantastic new features including a media wall with live nest cams and footage from underwater cameras and remote night cameras, indoor seating, visitor toilets and catering for hot and cold drinks, food and a facility for visitors to order RSPB goods online.
A new Family Trail will also be open from May to complement the duck-feeding and pond-dipping platforms already in place. It will include new boardwalk trails, viewing platforms, some of them raised to give bird's eye views into otherwise hidden areas of reedbeds, ditches and open water. There will also be a new storytelling and general recreation/picnic area.
Interesting birds that you may see at Radipole Lake.
You may see some or all of the following different types of birds during your visit to the Radipole Lake RSPB nature reserve.
All year: Bearded Tit, Cetti's Warbler, Kingfisher, Water Rail.
Spring: Cetti's Warbler, Common Tern, Garganey, Grasshopper Warbler, Nightingale, Sand Martin, Sedge Warbler, Yellow Warbler.
Summer: Cuckoo, Greenshank, Hobby, Nightingale, Sandwich Tern, Sedge Warbler, Swift.
Autumn: Bearded Tit, Black-Tailed Godwit, Green Sandpiper, Starling.
Winter: Bittern, Mediterranean Gull, Pied Wagtail, Pochard, Shoveler, Teal, Tufted Duck, Water Rail.
Facilities
Information centre.
Shop selling bird food, gifts, etc.
Hot and cold drinks on site.
Binocular hire available.
Car park (with cycle racks).
Guided walks available.
Picnic areas.
Great area for cycling and walking.
Pushchair friendly location.
Opening times
The reserve at Radipole Lake is open every day from 9 am to 5 pm or from 9 am to 4 pm in winter. The information centre is closed on Christmas Day and Boxing Day.
Prices
Entry to Radipole Lake is free but any donation from non-RSPB members to the RSPB is always very welcome.
RSPB membership is excellent value with a great range of benefits including free entry to a huge number of nature reserves. Take a look at the various RSPB membership options on offer.