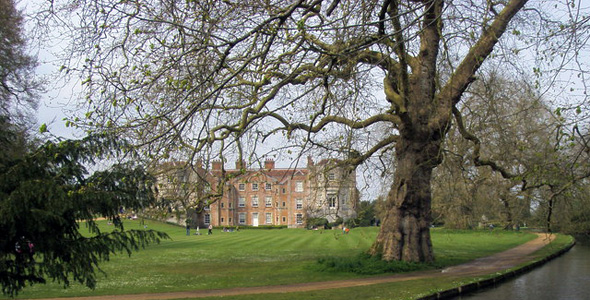 Picture is copyright Shaun Ferguson and licensed for reuse under a Creative Commons Licence.
Name: Mottisfont Abbey
Address: Mottisfont, near Romsey, Hampshire, SO51 0LP
Telephone: 01794 340757
Mottisfont Abbey is a former Augustinian priory that was founded in 1201 and passed to the National Trust in 1957.
The building was originally founded by William Briwere a respected adviser to Richard the Lionheart, King John and Henry III and a signatory to the Magna Carta. After the dissolution of the monasteries in the 1530's the estate was passed to William Lord Sandys, Lord Chamberlain to Henry VIII. Sandys was given Mottisfont in exchange for the villages of Chelsea and Paddington.
When monastic houses were acquired after the dissolution of the monasteries most lucky beneficiaries chose to transform them into domestic houses by converting the monks living quarters, but some (including William Lord Sandys at Mottisfont) decided to take the more ambitious step of incorporating the church itself into the conversion. Mottisfont was inherited in 1684 to Sir John Mill, nephew of the last Lord Sandys and it was Sir John's son Sir Richard that changed the exterior of Mottisfont to something similar that we see today.
In 1884, Mrs Vaudrey Barker-Mill leased the Mottisfont Estate to the Meinertzhagen family. Mrs Meinertzhagen was born into the Potter family and her famous sister, Beatrice, married Sidney Webb, a renowned social reformer of the early 20th century. Maud and Gilbert Russell arrived in 1934 and turned Mottisfont into somewhat of a social place to be for their London social circle with guests such as George Bernard Shaw and Ian Fleming.
The sale of the estate in 1934 to Gilbert Russell saw major changes to the gardens and they employed landscape gardener Norah Lindsay to plant a parterre. The year 1938 saw Rex Whistler employed to transform the entrance hall in the south-west wing into a Gothic drawing room (known as the Whistler Room) in the trompe l'oeil style.
A regular visitor to Mottisfont was the painter Derek Hill who was a primarily a landscape painter but also had a passion for collecting works of his contemporary painters. He donated most of his collection to the National Trust in order to be shown at Mottisfont in memory of his friend Maud Russell. These paintings can still be viewed at Mottisfont today along with a series of temporary collections of other works of art.
What's There?
A 13th century Augustinian priory.
See the world famous walled rose garden.
View the collection of art and changing exhibitions.
A National Trust gift shop.
The Kitchen Café serving hot and cold food (highchairs available).
A shop selling varieties of plants.
The Angel ice cream parlour.
Toy Cupboard shop selling traditional toys and games.
A second hand book store.
Car park.
Picnic in the beautiful gardens.
Baby change facilities.
Pushchair friendly.
Children's quiz/trial.
Family activity packs available.
Trivia
Mottisfont was once home to an important relic which was said to be the finger of St John the Baptist.
Prices
Admission to Mottisfont is £7.60 per adult, £3.80 per child and a family ticket costs £21.
There is free admission for all National Trust members.
See more information on National Trust Membership.