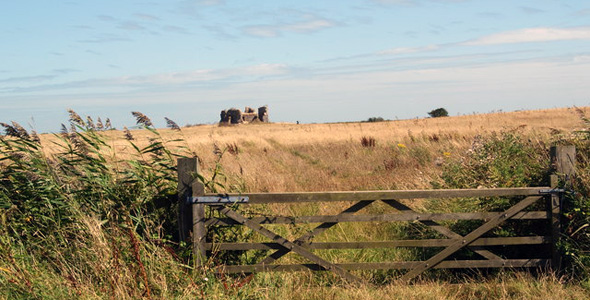 Picture is copyright Bill Boaden and licensed for reuse under a Creative Commons Licence.
Name: Minsmere RSPB Nature Reserve
Nearest town: Saxmundham
County: Suffolk
Grid reference: TM473672
Latitude/Longitude: 52.24746,1.61705
Telephone: 01728 648281
Minsmere is considered to be one of the RSPB's flagship nature reserves and as such is it one of the most visited of all of the nature reserves managed by the RSPB. It offers excellent facilities and bird watching throughout the year and it is famous of its Avocets (the bird featured in the symbol of the RSPB). One could argue that Minsmere has the longest list of breeding birds of any nature reserve in Britain.
There are a total of seven bird watching hides at Minsmere along with a public viewing platform. Four of the hides and the public viewing platform overlook the Scrape, two hides overlook the reed bed and the final hide is hidden in woodland.
Walking is a popular pastime at Minsmere and there are a range of established walks. Two of the more popular walks are the circuit of the Scrape and the Island Mere circuit, both of which are circular trails that are approximately 1.5 miles long. The circuit of the Scrape will take you along scrub, reed beds, and the beach with ample opportunity to make use of hides along the way. The Island Mere circuit takes you through the reed bed and woodland areas – please note that this particular walk is not wheelchair friendly.
Alternatively if you would like a more structured view of Minsmere you can hire a guide for half a day (this needs to be booked in advance of your visit) who will be able to help you spot particular birds or wildlife and offer you advice on how to develop your skills in the field.
If you'd prefer not to walk, you can take a Minsmere 4×4 safari! These are excellent for small groups and allow you to take in the wildlife at Minsmere from the comfort of a 4×4. They also allow you to see areas that are normally off limits to walkers.
The visitors centre at Minsmere is well equipped and features a shop and a cafe as well as a great deal of information about the birds and wildlife that is can be seen at Minsmere.
Interesting birds at Minsmere
You may see some or all of the following different types of birds during your visit to the Minsmere nature reserve.
All year: Barn Owl, Bearded Tit, Bittern, Cetti's Warbler, Dartford Warbler, Kingfisher, Lesser Spotted Woodpecker, Marsh Harrier, Stonechat, various wildfowl and waders, Water Rail, Willow Tit.
Spring: Avocet, Black Redstart, Black Tern, Common Sandpiper, Godwit, Green Sandpiper, Greenshank, Little Gull, Spoonbill, Spotted, Redshank, Wheatear, Whimbrel, Whinchat, Wood Sandpiper.
Summer: Avocet, Grasshopper Warbler, Little Tern, Nightingale, Nightjar, Redstart, Reed Warbler, Savi's Warbler, Sedge Warbler, Tree Pipit, Woodlark, Yellow Wagtail.
Autumn: See Spring.
Winter: Bewick's swan, Goldeneye, Great spotted woodpecker, Hen Harrier, Merlin, Peregrine, Pintail, Red-throated diver, Shorelark, Short Eared Owl, Snow Bunting, Twite, Water Pipit, Wigeon.
Facilities
Seven hides and a public viewing platform.
Car park with bicycle racks.
Toilets (and disabled toilets).
Baby-changing facilities.
Group bookings available.
Guided walks and 4×4 safaris available.
Opening times
The reserve at Minsmere is open during daylight hours. It is closed between 25th and 26th December.
Prices
Entry is free for all RSPB members. For non members the fees are £5 per adult, £1.50 for children, concessions are £3 and a family ticket is £10.
RSPB membership is excellent value with a range of great benefits. To visit the Minsmere reserve free of charge take a look at the various range of RSPB membership options.