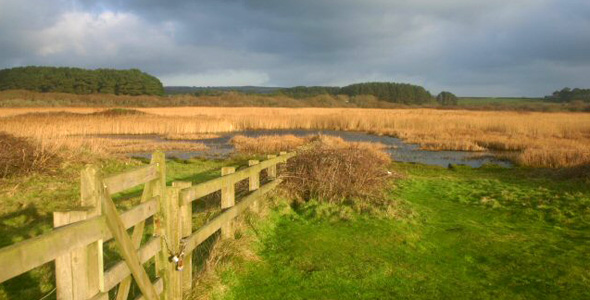 © Copyright Bob Jones and licensed for reuse under a Creative Commons Licence.
Name: Marazion Marsh RSPB Nature Reserve
Nearest town: Penzance
County: Cornwall
Grid reference: SW510312
Latitude/Longitude: 50.12844,-5.48541
Telephone: 01736 711682
Marazion Marsh is an RSPB nature reserve in Cornwall which consists of a Cornwall's largest reed bed and overlooks the impressive National Trust maintained St Michael's Mount.
The marshland is home to a reported 250 different species of birds, 500 different types of insect, 500 species of plants and 18 different types of mammals. It is one of the best places in the UK to see the rare Aquatic Warbler which is an internationally threatened species.
Other notable bird species that you may see at the Marazion Marsh reserve include the Spotted Crake in autumn and a variety of wetland waders such as grey herons and warblers.
The best views over the reserve are from the seafront pavement where the RSPB have built a viewing bay within the Cornish hedge which overlooks the sanctuary area of the reed beds and pools. There is a path that takes you from the entrance gate to the viewing area.
Interesting birds that you may see at Marazion Marsh.
You may see some or all of the following different types of birds during your visit to the Marazion Marsh RSPB nature reserve.
All year: Cetti's Warbler.
Spring: Bittern, Garganey, Grey Heron, Sedge warbler.
Summer: Reed Warbler, Sand Martin, Sedge Warbler, Stonechat, Swift.
Autumn: Green Sandpiper, Little Egret, Swallow, Water Rail, Wood Sandpiper, Wheatear.
Winter: Buzzard, Chiffchaff, Great Northern Diver, Sparrowhawk, Marazion Starling, Mediterranean Gull, Sanderling.
Opening times
The reserve at Marazion Marsh is open at all times.
Prices
It is free to enter Marazion Marsh, but donations to the RSPB are always very welcome.
RSPB membership is excellent value with a great range of benefits including free entry to a huge number of nature reserves. Take a look at the various RSPB membership options on offer.