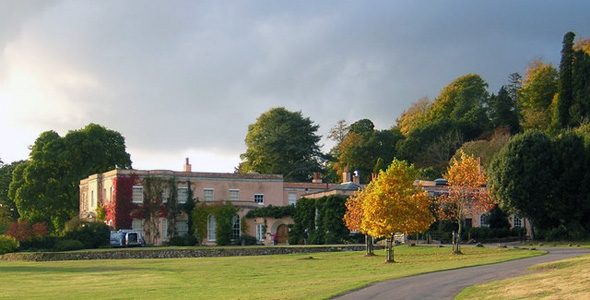 Picture is copyright Barrie Cann and licensed for reuse under a Creative Commons Licence.

Name: Killerton
Address: Broadclyst, Exeter, Devon, EX5 3LE
Telephone: 01392 881345
Killerton is one of the largest estates acquired by the National Trust and spans 6,400 acres with 20 farms and some 200 cottages. The best known property within the estate is the unpretentious Killerton House which was built in 1778–9 for Sir Thomas Dyke Acland by the architect John Johnson.
Originally the house was meant to be only a temporary residence for Acland (the Acland family is one of the oldest and well known family names in Devon) as a larger mansion was planned by James Wyatt nearby but the plans never came to fruition and over the years Killerton House as extended to form the magnificent country house it is now.
The house is in contrast to a number of other country homes managed by the National Trust. Many mansions were built as status symbols and as such the exteriors and interiors were often as grandiose as possible in order to portray the wealth of the owners as much as possible. This isn't the case at Killerton. Although in terms of land and worth it is immeasurably, the main Killerton House is much understated and in many ways reflects life between the First and Second World Wars.
The gardens at Killerton are a highlight for visitors to the estate. They were created in the 1770's by John Veitch, who at the time was only 21 but grew into one of the most capable and famous landscape designers of his time. He planted an arboretum on the Killerton Clump slopes with pathways through the trees. The rare trees that can be seen at Killerton are a delight as are the abundance of rhododendrons and magnolias.
The National Trust acquired the Killerton estate from Sir Richard Acland during the Second World War in circumstances that one could call unusual. Acland was highly political and in 1942 he formed the socialist Common Wealth Party with J. B. Priestley. One of the central tenets of the new political party was the ideology of public land ownership. To prove his point in the most spectacular fashion he donated the 6,400 acre Killerton estate to the National Trust in 1944.
What's There?
An impressive Georgian country house set amongst 6,400 of Devon countryside.
A shop selling local produce.
Two tea rooms.
Car park.
Generous picnic lawns.
Baby change and feeding facilities.
Pushchair friendly.
Children's play area.
Children's quiz/trial.
Trivia
Killerton was given to the National Trust by the owner to make a political point!
Prices
Admission to the house, garden and park is £8.15 per adult, £4.05 per child and a family ticket costs £20.
There is free admission for all National Trust members.
See more information on National Trust Membership.