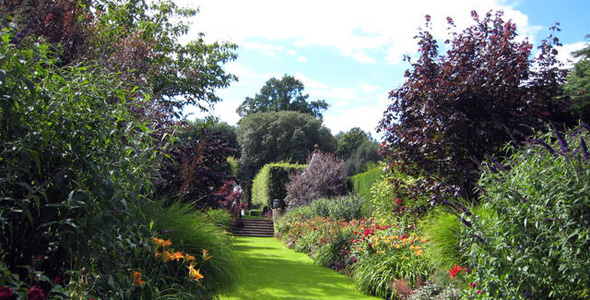 Picture is copyright David Stowell and licensed for reuse under a Creative Commons Licence.
Name: Hidcote Manor Garden
Address: Hidcote Bartrim, near Chipping Campden, Gloucestershire, GL55 6LR
Telephone: 01386 438333
The Hidcote Manor Garden is considered to be one of the finest examples of an English garden created in the 20th century. It originally laid out some 70 years ago by self taught American gardener Major Lawrence Johnston with a view to creating his representation of an English garden which contained a structure of "outdoor rooms" which were linked by vistas and contained a wide variety of topiary.
Gertrude Winthrop purchased the Hidcote Manor Estate in 1907 and it was her son Lawrence Johnston that sought to turn the existing fields that surrounded the property into a fitting garden. He took a great deal of inspiration from the "Arts and Crafts" movement of the time and laid out the design of the garden in 1910 with influences from Alfred Parsons and Gertrude Jekyll in terms of the outdoors "rooms" style – by 1920 he had 12 fulltime gardeners working under him to complete his vision. In total it took Johnston 41 years to complete his work over 10 acres and create one of the finest gardens in the country.
The specific method of creating outdoor rooms provides the garden with a real sense of variety and can be seen spectacularly during the changing seasons. The careful planting allows the visitor to progress through "rooms" of relative calm to more lavish colourful areas. The autumn is a particularly good time to visit so you can experience the splendour of the Red Border.
What's There?
A beautiful English garden of contrasting plants and colours.
Enjoy fresh food at the Garden Restaurant and conservatory.
Hidcote is home to the largest plant centre operated by the National Trust.
Hidcote gift shop.
Car park.
Baby change.
Children's quiz and trail.
Family trails.
Trivia
The largest plant centre in operation by the National Trust is located at Hidcote.
Prices
Admission to the Hidcote Manor Garden is £9.05 per adult, £4.54 per child and a family ticket costs £22.72.
There is free admission for all National Trust members.
See more information on becoming a member of the National Trust or see more details on a joint or family National Trust membership.