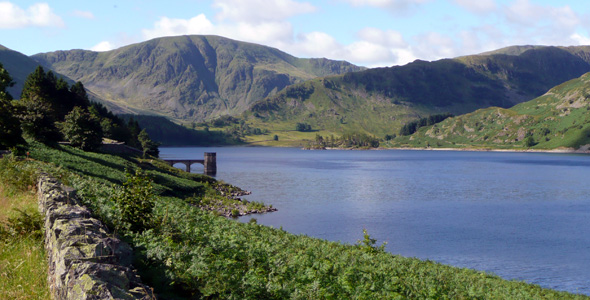 Name:
Haweswater RSPB Reserve
Nearest town:
Bampton
County:
Cumbria
Latitude/Longitude:
54.48976,-2.82124
Grid reference:
NY464116
Telephone:
01931 713376
Haweswater is a very special RSPB nature reserve in the Cumbrian countryside because it is the only location in England that is home to Golden Eagles.
A nesting pair of Golden Eagles first appeared in 1969 and over the years 16 chicks have been produced. Unfortunately, the female disappeared in 2004, but it is hoped that a replacement female will be drawn to the area.
You are able to reach the observation point from the western end of Haweswater, roughly 2 km along an eneven path. There is parking available but the reserve can get busy due to the lure of possible spotting a Golden Eagle so if you are planning to attend by car you would be well advised to arrive early to maximise your chance of getting a parking space. If you plan to come to Haweswater primarily for the eagles you may wish to avoid coming on days with low covering cloud and rain as these types of conditions will make a sighting less likely.
As well as the Golden Eagles, the reserve is also home to a range of interesting upland birds.
Interesting birds at Haweswater
You may see some or all of the following different types of birds when you visit Haweswater.
Spring and summer: Buzzard, Common Sandpiper, Curlew, Golden Eagle, Peregrine, Pied Flycatcher, Redshank, Redstart, Ring Ouzel, Sparrowhawk, Snipe, Tree Pipet, Wheater, Wood Warbler.
Facilities
Telescopes at selected viewpoints.
Haweswater is a remote and peaceful reserve.
Many beautiful walks and nature trails.
Opening times
The reserve is always open. The viewpoint where you would stand most chance of viewing the eagles is open at all times but it is only manned between April – August from 11 am – 4 pm on Saturdays and Sundays (this includes bank holidays).
Prices
It is free to enter the Haweswater RSPB reserve.
RSPB membership is excellent value with a range of great benefits including free entry to a huge number of nature reserves. Take a look at the various RSPB membership options on offer.