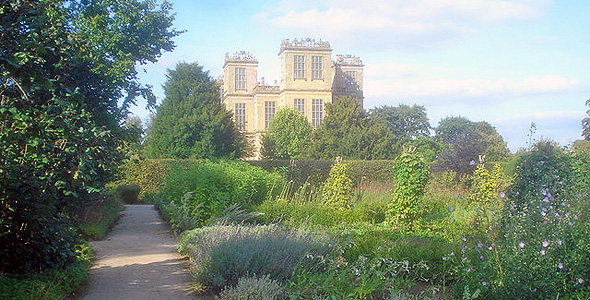 Picture is copyright Trevor Rickard and licensed for reuse under a Creative Commons Licence.
Name: Hardwick Hall
Address: Doe Lea, Chesterfield, Derbyshire, S44 5QJ.
Telephone: 01246 850430
Hardwick Hall in Derbyshire is one of the most important and impressive Elizabethan country houses in England today. The property was built by Bess of Hardwick in the 1590's under the architect Robert Smythson whose other famous works include Longleat House and Wollaton Hall.
It was built in the Renaissance style because during the time of building there was no longer the threat of invasion so design could take precedence over the requirement to fortify ones property. Bess of Hardwick, Countess of Shrewsbury originally owned the property and at the time she was the second richest woman in England – second only to Queen Elizabeth I. Bess was almost 70 by the time that work had begun at Hardwick and had four failed marriages behind her, with each marriage propelling her wealth and social standing further. As such, Hardwick Hall was constructed with a view towards an ostentatious display of her wealth.
Unusual for the time of building, the windows at Hardwick Hall are spectacularly large and further promoted the luxurious spectacle of the property to a 16th century public. There are a range of fine tapestries, embroideries and furniture still intact at Hardwick, many of the embroideries had been worked on by Bess herself.
Even though Hardwick Hall is a country house of huge proportions it was unable to contain Bess's entire household so Hardwick Old Hall was built in order to house servants and guests.
Later in 1811, when the 6th Duke of Devonshire inherited the property, he further enhanced the antiquarian feel of the house by adding in more furniture, paintings and tapestries, perhaps promoting the rumour that Mary Queen of Scots once stayed at Hardwick.
Hardwick Hall is set amongst 1,990 acres of two distinct types of landscape. The grounds at the back of the hall consist of a formal stretch of grass that looks out across the limestone plateau to the east of the house, whilst to the west is a country park with rare breeds of cattle and sheep grazing among a series of fishponds.
What's There?
A magnificent example of an Elizabethan renaissance design country house.
Beautiful surrounding grounds.
Souvenir shop
Restaurant serving produce reared on the estate.
Food and drinks kiosk.
Car park.
Baby change.
Baby reins and baby carry slings for hire.
Children's quiz/trail.
Trivia
Hardwick Hall was featured in the film Harry Potter and the Deathly Hallows as Malfoy Manor.
Prices
Admission to Hardwick Hall and gardens is £9.98 per adult, £4.99 per child and a family ticket costs £24.94.
There is free admission for all National Trust members.
See more information on National Trust Membership.