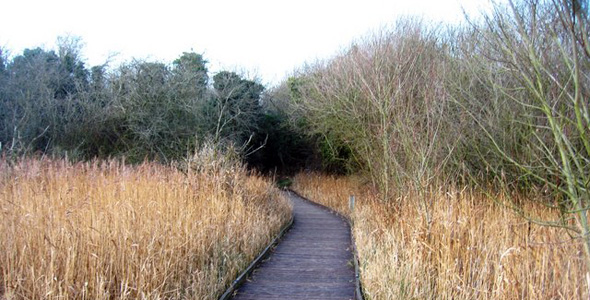 © Copyright Sebastian Ballard and licensed for reuse under a Creative Commons Licence.

Name: Fowlmere RSPB Nature Reserve
Nearest town: Royston
County: Cambridgeshire
Grid reference: TL406461
Latitude/Longitude: 52.09534,0.05108
Telephone: 01767 693098
Fowlmere is an RSPB nature reserve located 11 km south of Cambridge and covers 40 hectares of land. The name Fowlmere is a throwback to the origins of the site before the year 1800 when it was largely an area of open water which attracted a range of wildfowl.
From the 1890's onwards watercress began to be grown at Fowlmere and continued to be grown for nearly 100 years. The watercress beds at the nature reserve are classed as an SSSI (Site of Special Scientific Interest).
The RSPB acquired Fowlmere in 1977 and added in three bird hides, promoted nature trails (there is a 3km circular nature trail) and maintain the reed beds and pools which are fed by natural chalk springs.
There are a number of marshland birds that breed at Fowlmere and notable species of birds that you may see during your visit include Kingfishers, Sedge Warblers and Water Rails.
Interesting birds at Fowlmere
You may see some or all of the following different types of birds during your visit to the Fowlmere nature reserve.
All year: Kingfisher, Little Grebe, Reed Bunting, Sparrowhawk, Water Rail.
Spring and Summer: Blackcap, Chiffchaff, Garden Warbler, Hobby, Grasshopper, Lesser Whitethroat, Reed Warbler, Sedge Warbler, Spotted Flycatcher, Whitethroat, Willow Warbler.
Autumn and Winter: Corn Bunting, Fieldfare, Green Sandpiper, Hen Harrier, Marsh Harrier, Redpoll, Redwing, Siskin, Snipe, various Ducks.
Facilities
Car park along with cycle racks.
Toilets (and disabled toilets).
Picnic area.
Many beautiful walks and guided walks.
Group bookings can be taken.
Pushchair friendly.
Opening times
The nature reserve at Fowlmere is open at all times.
Prices
There is no entrance fee, but a donation is requested from all non-RSPB members.
RSPB membership is excellent value with a range of great benefits including free entry to a huge number of nature reserves. Take a look at the various RSPB membership options on offer.