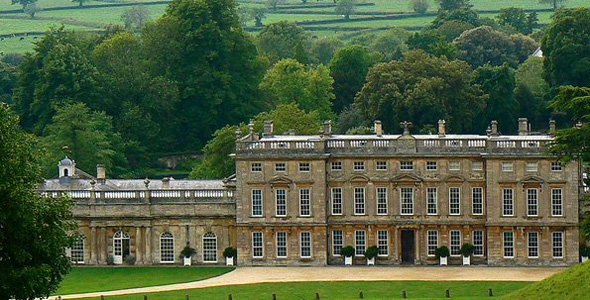 Picture is copyright Brian Robert Marshall and licensed for reuse under a Creative Commons Licence.
Name: Dyrham Park
Address: Dyrham, near Bath, South Gloucestershire SN14 8ER.
Telephone: 0117 937 2501
The baroque mansion Dyrham Park is set in a deer park on the edge of the Cotswold escarpment near to Bath and is set in 274 acres of gardens and parkland.
The house that stands now was built between 1692 – 1705 by William Blathwayt (Secretary at War to William III) after the original Tudor manor was inherited by his wife. The Huguenot architect Samuel Hauduroy was commissioned to create the west front in 1692 and the architect of Chatsworth, William Talman, was commissioned to create the east front in 1704.
Due to the influence of Blathwayt's uncle, Tomas Povey and his royal connections, Dyrham has a distinctly Dutch feel about the interiors and gardens. The interior could be considered as a showcase for works by Dutch painters, textile makers and furniture makers at the time, many of which are still in place to view by the public. Some of the room contents are very fragile so some interiors are dimly lit in order to preserve them.
The Victorian domestic rooms have been restored set around two courtyards beside the orangery and there also features a bakehouse, tenants hall, kitchen and dry and wet larder.
The garden at Dyrham was once an extensive Dutch water garden which surrounded the mansion, this has since disappeared and in its place is a Charles Harcourt-Masters designed 18th century park which features beech, cedar and chestnut trees with beautiful park trails to walk.
What's There?
An imposing baroque mansion.
An ancient deer park.
Shop selling local produce.
Tea garden serving hot and cold drinks.
Car park.
Baby change.
Pushchair friendly.
Children's quiz and trail.
Children's guide.
Children's activity packs.
Trivia
Dyrham Park was used as a filming location for the 1993 Merchant Ivory film The Remains of the Day and it appears in the opening sequence of the 2008 film, Australia.
The BBC used the gardens and interior for the 1999 mini-series, Wives and Daughters and also in 2010 it was used for an episode of Doctor Who.
Prices
Admission to the house, park and gardens at Dyrham Park is £10.50 per adult, £5.45 per child and a family ticket costs £26.25.
There is free admission for all National Trust members.
See more information on becoming a member of the National Trust or see more details on joint or family National Trust membership.