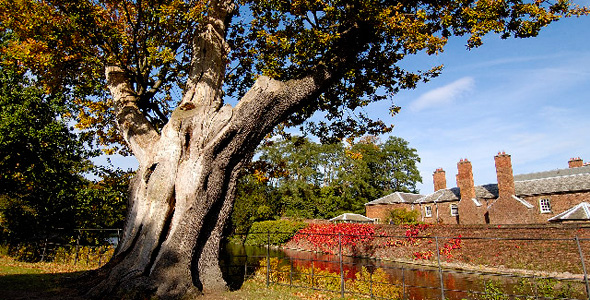 Picture is copyright Andrew Huggett and licensed for reuse under a Creative Commons Licence.
Name: Dunham Massey
Address: Altrincham, Cheshire, WA14 4SJ.
Telephone: 0161 941 1025
Dunham Massey Hall is a magnificent Georgian country house set amongst an ancient 300 acre deer park just outside the town of Altrincham. There have been various incarnations of the main hall but the current mansion was initially built in 1618 by Sir George Booth and was later renovated by John Norris for George, Earl of Stamford and Warrington between the years 1732 – 1740 and finally altered in 1905 by Joseph Compton Hall. The hall, stables and carriage house are all Grade I listed properties.
The interiors at Dunham Massey are very special and draw a great many visitors. The library is home to a mechanical model of the solar system (sometimes referred to as an orrery) showing the Sun, and six planets revolving around the Sun. At the time the model was built, Uranus, Neptune and Pluto had not yet been discovered).
The hall contains a collection of Huguenot silver and a spectacular wood carving of The Crucifixion by the famous 17th century wood carver Grinling Gibbons. Paintings hanging in the hall are from masters such as William Beechey, Francis Cotes, Michael Dahl, Sir Joshua Reynolds, George Romney, Enoch Seeman, and Zoffany.
Dunham Massey was not without it scandals over the years many of which you can read about at the property. Salacious stories abound about the marriage of 7th Earl of Stamford to Catherine Cocks who was a former bare back circus rider and the 2nd Earl of Warrington who wrote a book espousing the desirability of divorce even though he was married at the time!
The recently opened winter garden at Dunham Massey is a favourite amongst visitors. The seven acre garden contains approximately 700 different plant species and 1,600 shrubs that were specifically bred for the garden and it is the largest garden of its type in England. All of the flora and fauna have been specifically planted with a view to having at least two of the following characteristics – winter bark, winter flower, winter fruit, autumn colour or scent and sound. This makes the garden unique and a treat for the senses during autumn and wintertime, although it is still well worth a visit at any time of the year.
What's There?
A large and impressive Grade I listed Georgian country house.
Rooms adorned with great works of art.
A beautiful winter garden.
An ancient deer park.
Car park with shuttle buggy service between the house and car park.
Food is served from a seasonal menu.
Try the locally brewed award winning beer or sample the honey harvested from hives on site.
Generous picnic lawns.
Baby change facilities.
Pushchair friendly.
Children's quiz/trial and boredom buster activities.
Trivia
Dunham Massey was traditionally in the county of Cheshire but since 1974 it has been included in the Trafford Metropolitan Borough.
Prices
Admission to the house and garden is £9.05 per adult, £4.50 per child and a family ticket costs £22.60.
There is free admission for all National Trust members.
See more information on National Trust Membership.