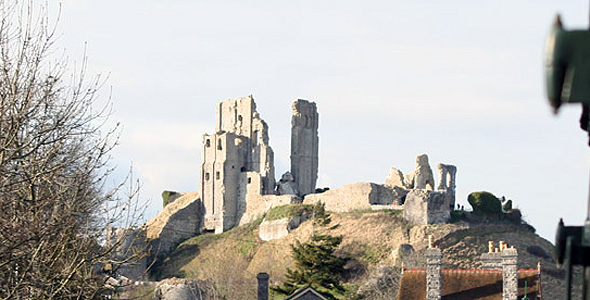 Picture is copyright Peter Langsdale and licensed for reuse under a Creative Commons Licence.
Name: Corfe Castle
Address: The Square, Corfe Castle, Wareham, Dorset, BH20 5EZ.
Telephone: 01929 481294
Corfe Castle represents one of the most impressive of ancient ruins in England with evidence that William the Conqueror first begun Corfe Castle soon after his arrival in Britain in 1066. Prior to this, legend states that before the castle was established, the area was where the child king Edward the Martyr was murdered in 978 by his mother in law who wanted her son Ethelred "the Unready" to take the throne. It is believed that Elfryda offered a goblet of wine to Edward and whilst he was drinking, she stabbed him in the back.
The Doomsday Book makes mention of a castle in Dorset, which although not explicitly mentioning the name Corfe Castle it is believed to be the same. The entry in the book reads "Of the manor of Kingston the King has one hide on which he built Wareham castle".
King John added many of the defences to the castle between the years 1199 – 1216 and given the location on the south coast, the castle had immense importance given the ongoing wars with France. After the loss of Normandy in 1204, Corfe Castle represented one of the first lines of defence against a French invasion.
Since the time of King John, the castle passed through various royal ownership and was considered to be less important as a royal stronghold and fell into disrepair somewhat which culminated in the deliberate destruction of much of the castle leaving the ruins that we see today after a siege in 1646.
The Corfe Castle and Purbeck estate covers roughly 8,000 acres of the Isle of Purbeck and surrounding coastline and includes the Studland beach and nature reserve. This is a haven for a variety of rare birds and wildlife and also includes a 3 mile stretch of golden beach.
Corfe Castle is a great family day out with interesting history, walks and magnificent views.
What's There?
Historic castle remains dating over 1,000 years old.
Spectacular walks, views and areas to investigate.
Nearby nature reserve and wonderful beach.
18th century tea room with tea gardens.
Car park.
Baby change.
Pushchair friendly.
Children's quiz and trail.
Children's guide.
Family guide.
Trivia
Corfe castle is thought to be the inspiration behind Enid Blyton's Kirrin Island.
Corfe Castle is regularly listed in the top 10 most visited attractions managed by the National Trust.
Prices
Admission to Corfe Castle is £6.81 per adult, £3.40 per child and a family ticket costs £17.04.
There is free admission to Corfe Castle for all National Trust members.
See more information on becoming a member of the National Trust or see more details on a joint or family National Trust membership.