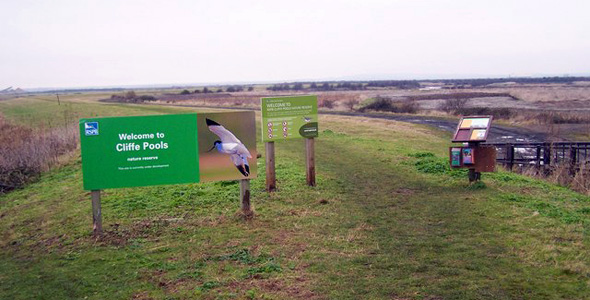 © Copyright David Anstiss and licensed for reuse under a Creative Commons Licence.
Name: Cliffe Pools RSPB Nature Reserve
Nearest town: Rochester
County: Kent
Grid reference: TQ722757
Latitude/Longitude: 51.45404,0.47706
Telephone: 01634 222480
The reserve at Cliffe Pools is one of the most popular nature reserves operated by the RSPB and offers an expensive and spectacular landscape over the full 1,730 acres that makes up the reserve.
Cliffe Pools runs alongside the River Thames and there are a number of trails that you can follow that offer excellent views of the reserve and of the river itself. There are six viewing points that overlook fresh and saline pools including the impressive Pinnacle Viewpoint.
The nature reserve was acquired by the RSPB in 2001 and since then a great deal of work has gone into conservation as well as future planning. Notable projects that have been undertaken (and in some cases are still ongoing) are the shallowing and reshaping of lagoons and islands to make the habitat more appealing for water birds, as well as leaving some deeper areas for invertebrates.
There are a number of regular guided walks which are led by RPSB staff as well as open days and safari fun days throughout the year. The safari fun day is held once per year and is particularly popular with children as there are a range of children's' activities laid on for the day.
Interesting birds that you may see at the Cliffe Pools reserve
You may see some or all of the following different types of birds during your visit to the Cliffe Pools RSPB nature reserve.
All year: Avocet, Barn Owls, Corn Bunting, Dunlin, Gadwall, Little Owl, Little Egret, Oystercatcher, Pochard, Ringed Plover, Shelduck, Shoveler, Snipe, Teal, Tufted Duck, Water Rail.
Spring: Avocet, Garganey, Lapwing, Nightingale, Redshank, Wheatear, Whinchat.
Summer: Black-Tailed Godwit, Common Tern, Garganey, Greenshank, Little Egret, Shelduck, Yellow Wagtail.
Autumn: Curlew, Dunlin, Fieldfare, Green Sandpiper, Greenshank, Grey Plover, Marsh harrier, Wood Sandpiper.
Winter: Dunlin, Goldeneye, Hen Harrier, Merlin, Peregrine, Pintail, Pochard, Short Eared Owl, Teal.
Facilities
Car park (with cycle racks).
Guided walks available.
Great location for walkers.
The reserve is pushchair friendly.
Opening times
The reserve at Cliffe Pools is open all year round. Please note that the car park is open every day (apart from Christmas Day) from 8:30am to 5pm.
Prices

It is free entry to the reserve at Cliffe Pools but the RSPB welcome donations wherever possible in order to help them to continue their excellent conservation and restoration work.
RSPB membership is excellent value with a range of great benefits including free entry to a huge number of nature reserves. Take a look at the various RSPB membership options on offer.