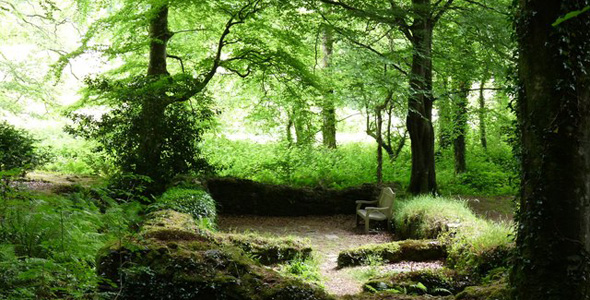 Picture is copyright Roger A Smith and licensed for reuse under a Creative Commons Licence.
Name: Chapel Wood RSPB Nature Reserve
County: Devon
Grid reference: SS482413
Latitude/Longitude: 51.151234,-4.171104
Telephone: 01392 432691
Chapel Wood is a small RSPB nature reserve located approximately 10 miles from Barnstaple and consists of 15 acres of broadleaved woodland. The name of the wood actually comes from the ancient monument of Spreacombe Chapel which dates from 1270. On the site is an Iron Age hill fort and a stream which runs either side.
The wood is home to a variety of birds and woodland wildlife. Highlights include tawny owls, nuthatches and a variety of woodpeckers as well as red deer, hares and occasionally badgers.
Chapel Wood is a lovely scenic walk and has a circular trail which can be followed. Please note that there are some steep areas on the trail.
This site was the first reserve to be donated to the RSPB in the south-west of England and passed over to the RSPB in 1951.
Interesting birds at Chapel Wood
You may see some or all of the following different types of birds during your visit to the Chapel Wood nature reserve.
All Year: Buzzard, Dipper, Great Spotted Woodpecker, Green Woodpecker, Grey Wagtail, Lesser Spotted Woodpecker, Raven, Sparrowhawk.
Spring: Buzzard, Chiffchaff, Great Spotted Woodpecker, Green Woodpecker.
Summer: Blue Tit, Blackcap, Pied Flycatcher, Raven, Robin.
Autumn: Blackbird, Chaffinch, Redwing, Song Thrush.
Winter: Fieldfare, Long Tailed Tit, Nuthatch, Treecreeper.
Facilities
Car park available.
Lovely scenic, peaceful location.
Excellent for walkers with marked trail.
Opening times
The nature reserve at Chapel Wood is open at all times.
Prices
Entry to the nature reserve at Chapel Wood is free of charge, but the RSPB always welcome donations to help them to continue their invaluable work.
RSPB membership is excellent value with a range of great benefits including free entry to a huge number of nature reserves. Take a look at the various RSPB membership options on offer.