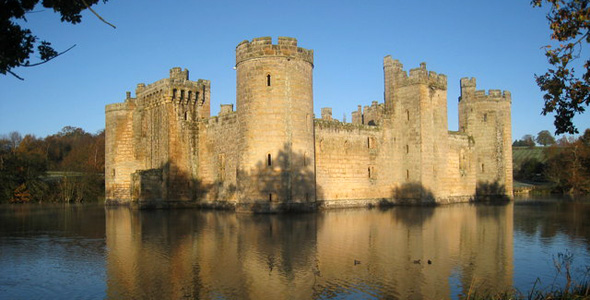 Picture is copyright Oast House Archive and licensed for reuse under a Creative Commons Licence.

Name: Bodiam Castle
Address: Bodiam, near Robertsbridge, East Sussex, TN32 5UA.
Telephone: 01580 830196
Bodiam Castle is one of the most impressive moated castles in Britain today. It was originally built in 1385 when the then owner Sir Edward Dalyngrigge sought to fortify his property against invaders. The work took 3 years to complete and left a magnificent four square castle with views across the Sussex marshes and a wide moat to assuage potential attackers.
The exterior of the castle still remains very much intact and although parts of the interior are in ruins it is still possible to obtain a vivid impression of how life was within the castle walls. As well as providing a stout defence, the castle was also designed with a view to incorporating some of the trappings of luxury at the time and as such the castle was likely considered as a substantial status symbol when it was built in the 14th century.
Bodiam Castle passed through several generations of the Dalyngrigges until their line ended and the castle was passed to the Lewknor family by marriage. Several changes of ownership took place in the years that followed, notably it was owned by John Fuller in 1829 whom began a work of restoration on the castle and latterly Lord Curzon. Bodiam Castle was donated to the National Trust by Lord Curzon upon his death in 1925 and the castle has been open to the public to view ever since.
The castle at Bodiam is a Grade I listed building and it is classified as a "Scheduled Monument". This means it is a historic building of national importance as well as an archaeological site which cannot be altered or changed without authorisation.
What's There?
One of the most impressive castles standing in Britain today.
See the gatehouse with the original wooden portcullis.
Explore the courtyard and battlements.
See the exhibition and film chronicling life at Bodiam.
A shop containing local food produce, drinks and snacks.
Car park.
Baby change.
Pushchair friendly.
Family activity packs.
Trivia
Memorably Bodiam Castle was featured in the opening scene of the film Monty Python and the Holy Grail when it was established as "Swamp Castle" in the "Tale of Sir Lancelot" part of the film.
Prices
Admission to Bodiam Castle is £6.80 per adult, £3.40 per child and a family ticket costs £18. Please note that you can receive a reduced entry price if you arrive by bicycle.
There is free admission for all National Trust members.
See more information on becoming a member of the National Trust.