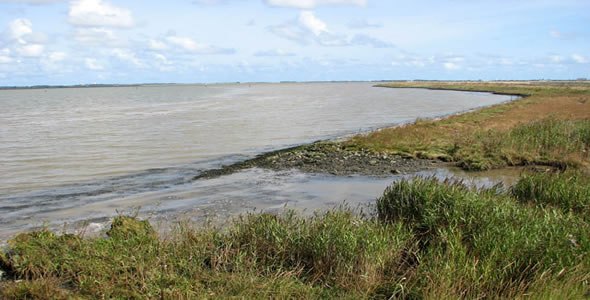 Picture is copyright Evelyn Simak and licensed for reuse under a Creative Commons Licence.

Name: Berney Marshes and Breydon Water RSPB Nature Reserve
Nearest town: Great Yarmouth
County: Norfolk
Grid reference: TG464048
Latitude/Longitude: 52.58508,1.63596
Telephone: 01493 700645
Breydon Water is an estuary that is fed by the river Yare, Waveney and Bure and meets the sea just south of Great Yarmouth. It is an area that attracts wildfowl and waders along with one or two rarities on occasion.
The north and south shores of the estuary are served by footpaths and there are hides towards the eastern end of the estuary.
Interesting birds at Berney Marshes and Breydon Water
You may see some or all of the following different types of birds during your visit to the Berney Marshes and Breydon Water RSPB Nature Reserve
All year: Bearded Tit, Oystercatcher, Shelduck, Shoveler, Snipe, Redshank.
Spring and Summer: Brent Goose, Curlew Sandpiper, Garganey, Greenshank, Hobby, Little Egret, Marsh Harrier, Osprey, Sandpipers, Spoonbill, Ruff, Tern.
Summer: Turn, Various Waders.
Autumn: See Spring.
Winter: Bewicks Swan, Brent Goose, Various Divers and Ducks, Grebes, Hen Harrier, Merlin, Peregrine, Short Eared Owl.
Facilities
Remote and peaceful location.
Excellent location for walking.
Opening times
This reserve can be viewed at all times.
Prices
Entry is free, but as it is a managed RSPB reserve, all donations to the RSPB are always very welcome and gratefully received.
RSPB membership is excellent value with a range of great benefits including free entry to a huge number of nature reserves. Take a look at the various RSPB membership options on offer.